[an error occurred while processing this directive]

Nevada Dedicates Extraterrestrial Highway
or "The Final Frontier: In Search of Intergalactic Tourists"
Anyone can dedicate a highway. But to do it in typical Las Vegas Style takes the cooperation of many state dignataries, the Department of Transportation, a major movie studio, a handful of movie stars, directors and producers and the tolerance of a small relatively unknown town of less than 100 people called Rachel, NV.
On April 18, 1996 Governor Bob Miller officially dedicated State Route 375, in a much celebrated ceremony, the "Extraterrestrial Highway". The ceremony was held in a small town called Rachel, Nevada well known by UFO fans as one of the most "visited" sites in the country. The highway, one of the more deserted but historically rich areas in the country, stretches approximately 100 miles through Lincoln and Nye counties 140 miles north of Las Vegas, and connects highways 93 and 6.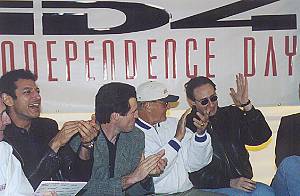 As fate would have it, Twentieth Century Fox picked up on the story of the upcoming event and decided it would make an excellent opportunity to announce the release of their upcoming movie "Independence Day - July 4" (formerly linked at: www.id4.com) set for release on July 3, 1996. The movie, from the makers of "Stargate", starring Jeff Goldblum (Jurassic Park, The Fly, Vibes), Brent Spiner ("Data" in the Star Trek Series), Bill Pullman (Casper, Sleepless in Seattle), Robert Loggia (Prizzi's Honor, Big, An Officer and a Gentleman) and a list of other stars, is about a fleet of alien spaceships, the size of large earth cities, which invade earth over the Forth of July weekend and threaten to take over the earth. Mr. Spiner plays Dr. Okun the head scientist at "The mythical area 51", while an unlikely group of people led by Jeff Goldblum as character David Levinson holds the key to stopping the aliens. (pictured at dedication l to r Jeff Goldblum, Robert Loggia, Bill Pullman, Brent Spiner.)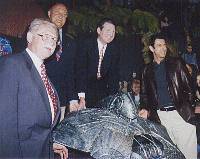 20th Century Fox, in a ceremony the night before the dedication, donated one of the production models of an alien spacecraft used in the movie and autographed movie posters to the Las Vegas Planet Hollywood. They should be on display there any day now. (shown Lt. Gov. Lonnie Hammargren, Robert Loggia, Gov. Bob Miller, Jeff Goldblum)

The morning of the dedication a group of reporters, state and city officials, studio reps and onlookers assembled in the parking lot which now covers the final resting site of the now-demolished Landmark Hotel to join a multi-bus convoy out to the desert location. This also just so happened to be the site of filming for another upcoming movie called "Mars Attacks", but that's another story.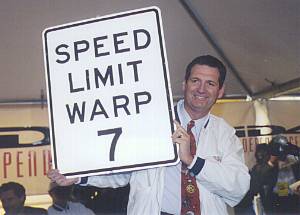 The ceremony itself was loaded with toungue-in-cheek commentary and celebration making for a quite enjoyable afternoon. Governor Miller and Lt. Governor Lonnie Hammargren expressed their hopes that if extraterrestrials do venture to earth that they'll come to the most visited tourist spot first (i.e. Las Vegas) and wanted them to be assured that their cash, travellers checks and intergalactic plastic will be accepted at every casino in Las Vegas. Gov. Miller also unveiled a few of the new Dept. of Transportation street signs oriented primarily to extraterrestrials. We can't wait to see a motorist contest a speeding ticket asserting that he was doing less than warp 7.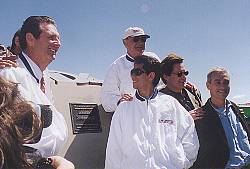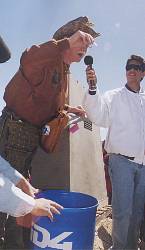 After the short ceremony attended by state dignataries and movie stars as well, the official highway sign and a blue ET time capsule with stone monument were unveiled. Many famous guests donated pre-planned items to the time capsule including previews and props from the upcoming movie, books of art and culture, pages from Mr. Spiner's upcoming Star Trek movie script (we couldn't even bribe him to let us take a peek at them first. Hope they don't have to re-shoot that scene... :), and even models of stealth bombers from the Governor to commemorate the "other" earthbased types of aircraft suposedly sighted in the area. Lt Gov. Hammargren, in his Las Vegas tourism promotion mode, contributed a "universal gaming chip" for use in Las Vegas casinos by any E.T. who may discover the time capsule.
Finally, following the festivities, there was a panel discussion including Walt Andrus from MUFON and Las Vegas's famous UFO investigative reporter George Knapp answering questions about sightings and the origins of UFOs sighted in the area.
A local UFO research group (formerly linked at: www.ufomind.com/highway) based in Rachel, Nevada protested the event claiming that the tourism aspects and the "non-serious" nature of the event detracted from the true mission of welcoming contact with space aliens. Some people just can't take a joke for the sake of tourism I guess.
The Lt. Gov. (and Chairman of the NV Commission On Tourism) also announced a new, free, tourism incentive package called the "E.T. Experience" (not to be confused with the "F.S. Experience" or "Fremont Street Experience"), to encourage visitors to drive to the Nevada Pioneer Territory around Rachel, NV and the Extraterrestrial Highway. If you are interested in this fun escapade, call the NV Commission on Tourism toll free number 1-800-NEVADA-8 for information about the program. And mention you saw it on the Las Vegas Leisure Guide. :)
---
If your Las Vegas hotel, casino, restaurant or establishment has new major construction, public activities (sorry, slot tournaments and bingo night don't count) or other interesting tidbits to offer, send them to us on company letterhead and if we think LVLG readers will be amazed, astounded, or even slightly interested we'll publish it. Make sure to send LOTS of pictures and written permission to publish them! We love pictures!
---

Created by PCAP; © Copyright 1996-1997
Last Updated: January 9, 1997