Las Vegas Sands Hotel & Casino Closes its Doors For Good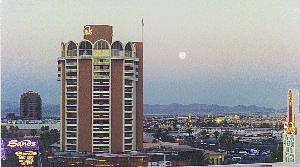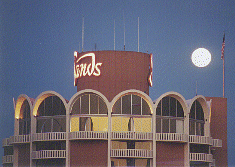 A blue moon rises, over Blue Eyes' old haunt.


For Scenes From the Nov. 26, 1996, 2:06 am, Implosion - Click Here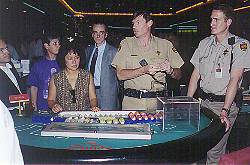 At precisely 9:00 pm (PST) on June 30, 1996, under an ominous full moon, a crowd counted a ten second countdown leading to a pull of the main power switch darkening the main sign and hotel tower lights of the venerable Sands Hotel and Casino on the Las Vegas Strip for ever.
The last guests were hesitatingly ushered from the gaming rooms and lounges three hours earlier as security and gaming officials closed down the tables and machines one by one. The front doors were finally slid into place and sealed by workmen. Displaced employees and onlookers exchanged condolences and many hung on under the great marquee for hours, whispering, not wanting to leave. Hoping perhaps the world would reset and start anew if they waited long enough and then they could go back inside as if nothing had happened.
For 44 years the Sands dominated the strip in entertainment and good times. For many who visited year after year, it was an old friend, a place of enduring stability in a city of ever-changing skylines as one property tries to outdo the previous years' attractions. Unfortunately for the Sands this competition was just too much to keep up with and still maintain the old style ambiance and so the current owner, Sheldon Adelson, has decided to ditch it all and start over from scratch with a new property poised to rise from the demolition in a couple of years to beat all!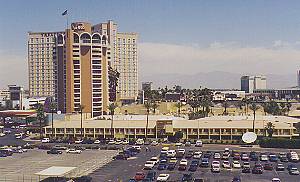 The Sands opened December 15, 1952 as just a Casino and a couple hundred rooms thrown in. The well-known, landmark, 500 room tower wasn't added until over 10 years later in the mid 60's when it came to be owned by aviation pioneer and millionaire Howard Hughes. In its heyday it was the center of entertainment in Las Vegas. Hosting the likes of Frank Sinatra, Sammy Davis Jr., Joey Bishop, Milton Berle, Dean Martin, Louis Armstrong, Nat King Cole, Lena Horne, Johnny Mathis, Peggy Lee, Patti Page and Danny Thomas (who opened the showroom opening day) just to name a few. Regulars knew they could come and schmooze with the celebrities basking in the lounge after the late evening shows. Las Vegas was then just a little oasis in the desert on the road to Southern California. Most of the presidents of the United States, since the hotels inception, including Truman and Kennedy, and their families have stayed at the Sands during its four decades.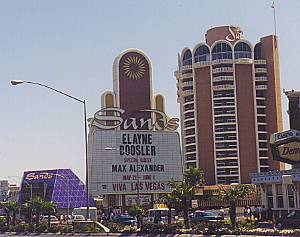 Demolition (implosion) of the tower is set for the near future, but no exact date has yet been set. The only official word is "before November". The auction to sell remaining furniture and fixtures is scheduled ON PROPERTY for July 30 & 31, 1996 and will include 1100 slot machines and 715 hotel rooms full of furniture. Previewing is July 28 & 29, 1996. The related convention center will remain pretty much exactly as is and will be a part of the new property. Rising in the hotels place will be a new $1.5 Billion, 6,000 room (the largest yet, in the WORLD) mega-resort, convention and shopping complex set for completion sometime in 1998. All we know so far is that the new place will have a Venetian theme and may work the "Sands" designation into its name somehow.
---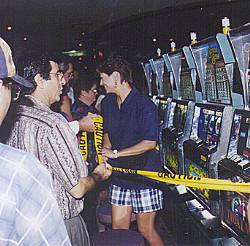 Just One Last Pull...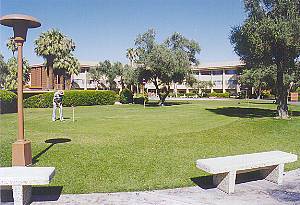 Just One Last Putt...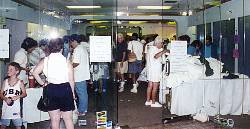 Just One Last Souvenir...

Bartender! One more Scotch...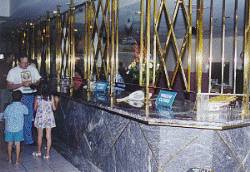 Cashing Out for the Last Time...

---
As of July 1, 1996, there is still, unofficially a little life still left in the old hotel. Filming is rumored to be scheduled to start today on a new Chevy Chase movie "Vegas Vacation" using parts of the Sands hotel. Later in October scenes were filmed for the Nicholas Cage movie Con-Air with a convict airplane crashing into the front of the casino.


Thus some may find consolation in knowing that, just like the Landmark hotel in the movie Casino, the longstanding Sands tradition will be memorialized one last time, forever in two major motion pictures that they can show their kids years from now and say "See, I met Deano at that hotel...".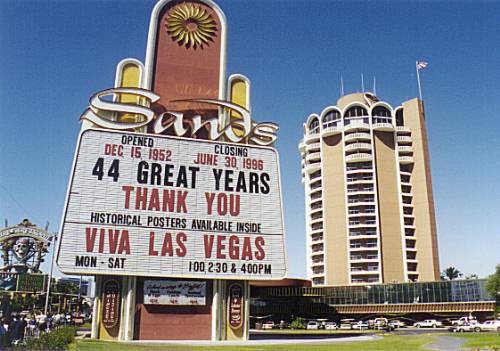 ---
If your Las Vegas hotel, casino, restaurant or establishment has new major construction, public activities (sorry, slot tournaments and bingo night don't count) or other interesting tidbits to offer, send them to us on company letterhead and if we think LVLG readers will be amazed, astounded, or even slightly interested we'll publish it. Make sure to send LOTS of pictures! We love pictures!

---
Created by PCAP; © Copyright 1996
Created: July 1, 1996.