Soon to be, nestled neatly in front of the MGM Grand Hotel and Theme Park along the lower Las Vegas Strip, will be the "Showcase" entertainment complex. So what KIND of showcase will it be? One which incorporates a 100 ft tall, 7,000 glass pane, Coke bottle which is really an elevator. One which houses a 47,000 square ft., a Sega Gameworks interactive center, an 8 screen, 2,800 seat movie theatre, and a 36,000 square foot All Star Cafe. Surely a $94 million showcase to exceed all other showcases in true Las Vegas style right on the Las Vegas Strip.


(Artist's conception supplied by The Showcase).
Let me start with the most obvious feature, since it stands right out in any picture. The familiar trademark Coke bottle will stand 100 feet tall, and encase two elevators to transport visitors between five floors. Visitors will be able to see Coke's famous TV commercial Polar bear, a three story wall of solid ice and of course grab a refreshing complimentary serving of their favorite beverage (as long as, that is, their favorite is Coca Cola) at a period soda fountain. Planned opening for the Coke museum is around July 1997 while the Coke refreshment center will be open somewhat sooner.
Next say we wander to the next level to the Sega Game Works Interactive Center. Here in a 47,000 square foot electronic wonderland will be a one-of-a-kind attraction. Cutting-edge technology, motion simulators, interactive rides, and the very latest in amusement and simulation games. Need we say more? And these are just the things that aren't being kept highly secret... Proposed opening date is April, 1997.
On the lower level of the attached 1500 space parking garage we'll come upon the United Artists movie complex with eight screens featuring the latest THX and DTS technology. The movie complex is due to open in February of 1997.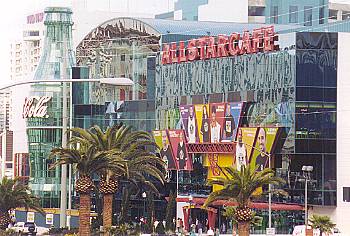 Back in the main Showcase complex, and in fact encompassing part of 3 floors of it will be the Official All Star Cafe. This attraction is the third of it's kind in the world, the first two being in New York City and Cancun, Mexico. This arena style restaurant will combine satisfying three of Americans' favorite pastimes: Sports, Television and Eating! The cafe will also boast over a hundred TV monitors to watch current sports as well as famous replays from the past, tons of memorabilia and even its own in-house blimp to cruise the ceiling displaying the latest scores. Supported by a number of today's sports greats including the likes of Shaquille O'Neal, Andre Agassi, Joe Montana, Monica Seles, Tiger Woods and Wayne Gretsky they hope to attract sports fans worldwide. The All Star Cafe opened in December of 1996. Picture at right taken just after opening.
Finally, there is yet another, soon to be announced (any day now), themed area in the planning which we'll bring to you as soon as we are updated by Showcase. They've promised it will definitely be exciting.
The new property has begun opening in parts starting with the All Star Cafe which opened on December 15 of 1996. The remainder of the areas are expected to be open by late July 1997.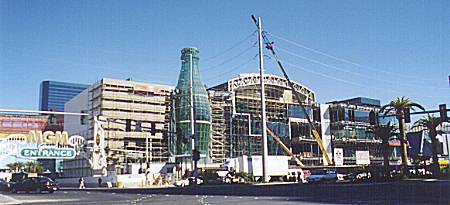 Here are a couple of shots during construction in Mid-October, 1996

---
If your Las Vegas hotel, casino, restaurant or establishment has new major construction, public activities (sorry, slot tournaments and bingo night don't count) or other interesting tidbits to offer, send them to us on company letterhead and if we think LVLG readers will be amazed, astounded, or even slightly interested we'll publish it. Make sure to send LOTS of pictures! We love pictures!

---
Created by PCAP; © Copyright 1996
Last Updated: December 30, 1996