Stratosphere Tower Crane Dismantling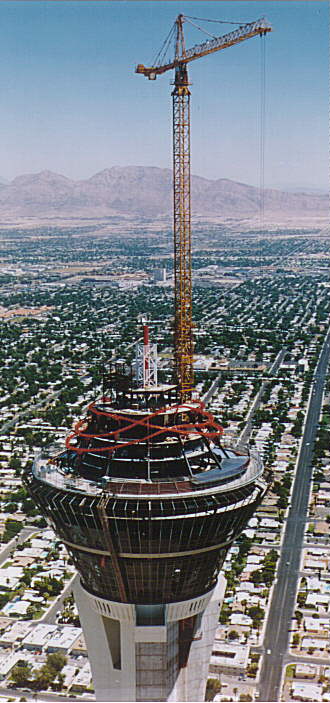 The entire process of dismantling and lowering the crane will take a total of about 2 months requiring much advance planning and precision execution. Stratosphere's Director of Construction, Scott Dawes, explains the whole procedure:
The tower crane will raise a 30-ton, roof mount crane to the outside observation deck. Once it is secured in place, the Tower crane will be dismantled and the roof mount crane will lower it to the ground.
When the Tower crane is down, the roof mount crane will be used to fill in the hole left by the Tower crane. When the roof mount crane has finished its job it will raise a seven-ton, stiff legged derrick to the platform. The roof mount crane will be broken down into sections, and then lowered to the ground by the stiff legged derrick.
Once the roof mount crane is down, the stiff-legged derrick will do the finish work on the top of the pod. The derrick then will be dismantled by hand and brought down the Tower in pieces via the construction elevator.
UPDATE - OCTOBER 25, 1995: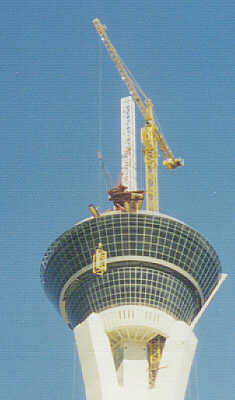 The first of the major cranes is lowered piece by piece, before the next crane is lifted into place beside it.
All the cranes should be down by Thanksgiving. Mr Dawes, who has over 15 years of experience in the construction field, says "The height of the crane, as well as its location over Las Vegas Boulevard, makes for extremely challenging logistics. Every step, from the first wrench turn until the last truck is loaded, must be meticulously planned to ensure a safe dismantlement. The excitement of this challenge combined with the excitement of seeing the Tower at this stage of completion are what we've been working for, and it's a great feeling".
UPDATE - JANUARY, 10 1996:Well it took a little longer than planned, but all of the cranes are finally down from the top of the tower. The final 7 ton stiff-legged derrick was dismantled and hauled down via the construction elevator over the past week, making this the first time in the nearly two years of construction that there has not been a crane on top. Workers are now hard at work installing hardware fixtures like, doors, carpeting and hand railing on the top platform. Click here for more photos and construction details and descriptions of the Stratosphere Tower topping off.
---
Last Updated: January 12, 1996