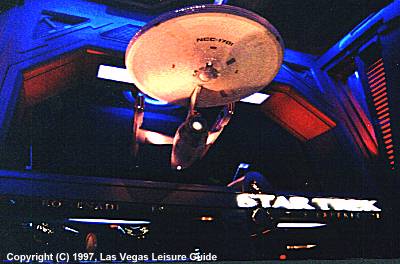 Star Trek: The Experience - at the Las Vegas Hilton

PICTURES AS OF JANUARY 1998
Opening January 4, 1998 at the Las Vegas Hilton is what promises to be a Trekker's dream come true. Arriving just over thirty years after the first debut of Star Trek on American TV, the $70+ million expansion will carry on the tradition of the countless Star Trek episodes, movies and books.
The ground breaking on January 24, 1996 began a two-year-long conversion of part of the northwest corner of the Las Vegas Hilton casino and shops into a state-of-the-art Star Trek experience incorporating simulator rides, themed casino areas and restaurants, and intricately detailed duplicated sets from the series and movies.

Spock's space burial coffin from the movie can be
seen on display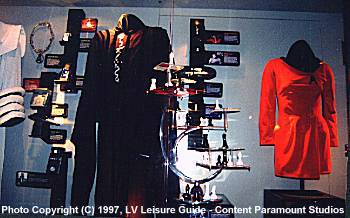 One's voyage may begin with a trek through the museum-like exhibit of authentic Star Trek costumes and memorabilia. Here you can see everything from Whoopi Goldberg's costume on The Next Generation and ensign costumes from The Original Star Trek Series to the multi-tiered 3-D chess set,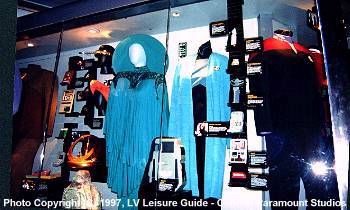 communicators, weapons and ship models galore. These are tastefully arranged along the winding queue to the "experience" feature so you'll also have plenty of time to browse and read the "miles" of pictures and descriptions on the complete time-line of episodes also lining the queue.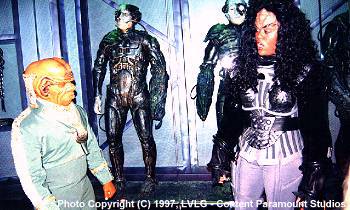 You might also be lucky enough while waiting in line, to be entertained by the costumed actors wandering around who are apparently quite well briefed on many details of Trek trivia, lore, dialouge and proper alien ettiquette.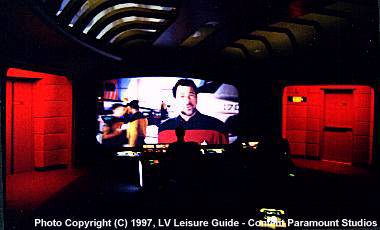 RED ALERT! as Commander Ryker discusses your mission on the Enterprise bridge

Once inside the attraction itself (which will cost approximately $10 per person - entry to the separate promenade area and restaurant/bar is free) things go "wrong" immediately and guests are mistakenly "beamed-up" to the future to the Starship Enterprise. This part could have been a little more impressive than a gust of wind in the dark as walls slide up revealing the enterprise transporter room (as I recall in one episode Barclay could SEE things in the transporter beam with him, but I guess technology just isn't there yet :-) From there it's off on an immersive, 20-minute, interactive live mission to find out who's trying to kill Captain Picard by kidnapping his ancestor (supposedly one of the guests) and on to a shuttle-craft simulator via fairly realistic. corredors, turbolifts which fail, and shuttlecrafts which ultimately return you through time via a bumpy simul-ride to the basement of The Las Vegas Hilton, of course. (be sure to check out the local newscasters on the TV in the janitor's room on the way out.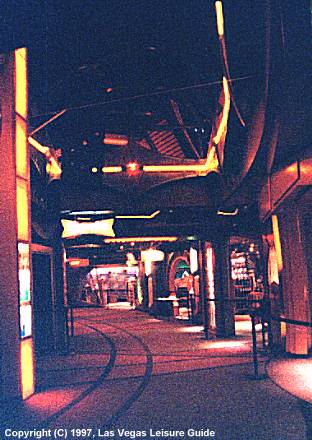 After a rousing mission it's time to settle down and browse the exact replica Deep Space Nine style promenade complete with restaurants, games and shops. Let us say, it IS indeed a VERY good rendition, other than not being quite as well lit as the well lighted film set (so make sure you have good, fast film if you want to take pictures), right down to the walk-over bridges and beams. By the way, we were later told that photography will be restricted to only the bar and promenade area, and that there WILL be signs posted in the museum area, although we could not find them ourselves upon later close inspection.

A Wall Replicator in Action
A Bjoran themed restaurant called Quark's after the DS9 series, features appropriately named delectibles from pasta to steak but the only Glop-on-a-Stick we could order was through the wall replicators, which, while fun to watch, don't really produce anything in the form of edible food.
The Bjoran waiters were very entertaining and really got into the act and the portions were quite plentiful, albeit not inexpensively priced. Quark, the Ferengi owner himself may even drop by your table to see how things are going (see if YOU can figure out how they get those jagged teeth to look so REAL!) or a Klingon female may plop herself down in the booth next to you.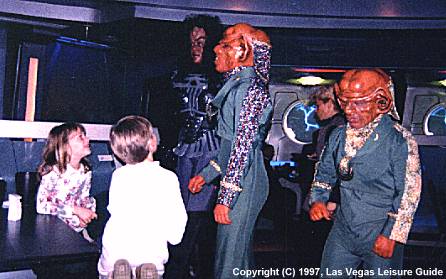 Even the kids will enjoy chatting with the local residents in the restaurant and Promenade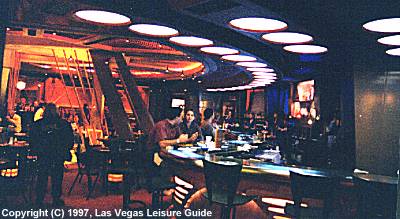 Unfortunately there are no holo-suites or Dabo tables at Quark's, however there WERE Dabo Girls tending the substantial lounge and bar adjacent (and we are told Quark's DOES accept gold pressed latinum as payment... if you have any). Now the drinks at Quark's are something else! And we ain't talkin' Synth-ale here folks! Served in tall frosty glasses, are such galactically named delicacies as blue "Cardassian Coladas" and "Ryker-ritas" (which are VERY tasty if you can get over the unusual deep green coloring), and the ominous "Warp-Core-Breach-for-two" with more different types of liquors than we could remember (someone stole our bar menu on the way out).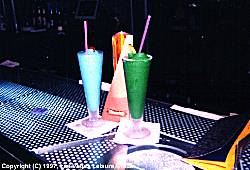 We also noticed that although you can order the same drinks in the restaurant as at the bar, when you get them in the bar they are about 50% larger! So get 'em first and carry them in when you go to eat. Not sure if this is always true or if it was just an "accident" in our case.
In the computer gaming area, guests will reportedly be able to assume the identity of their favorite Star Trek Alien and have their picture taken, although this part was not ready when we visited in December.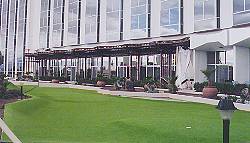 The attraction is a joint venture between Paramount Parks and the Las Vegas Hilton. Extending three stories high (a number of suites facing the rooftop putting greens had to be gutted to make room) and resulting in the 22,000 square foot "Spacequest Casino" as well.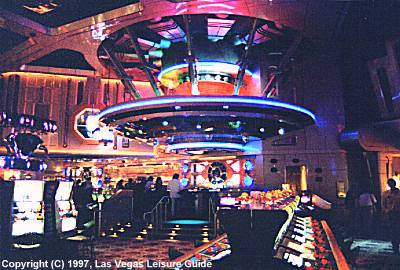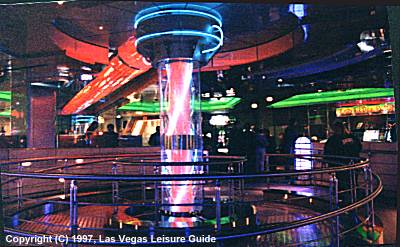 The ceiling of the casino area consists of "space windows" creating a constantly changing panoramic illusion of a space action. Neon lighted warp cores and other special effects like laser sensor activated slot machines permeate the casino area which is located directly in front of the attraction entrance.
The official opening of the Final Frontier has finally been announced for Sunday, January 4, 1998 at 11am. There will be a pre-opening event beginning at Midnight Saturday night until 9am Sunday Morning, for all Star-Trek fans who wish to ante up from $30 to $100 each to be the first to experience the attraction. A limited number of "assigned-time" tickets for the event will go on sale through Ticketmaster December 5 at 9am PST.
---
If your Las Vegas hotel, casino, restaurant or establishment has new major construction, public activities (sorry, slot tournaments and bingo night don't count) or other interesting tidbits to offer, FAX or send them to us on company letterhead and if we think LVLG readers will be amazed, astounded, or even slightly interested we'll publish it. Make sure to send LOTS of pictures with written permission to publish them! We love pictures!
---
Created by PCAP; © Copyright 1996-1998
Last Updated: January 1, 1998