Las Vegas - Fremont Street Experience - Light Show Sneak Preview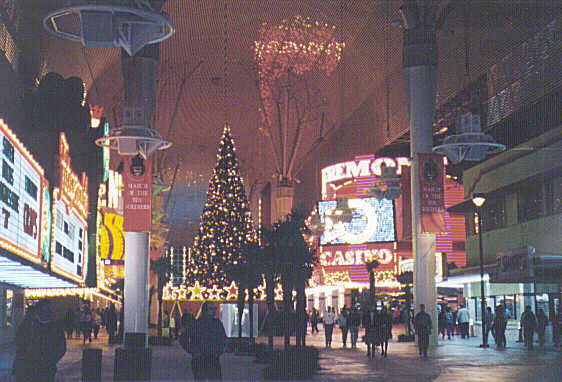 'Twas the week before the Grand Opening and all through the Street, everything was in readiness, even the tree was decorated so neat...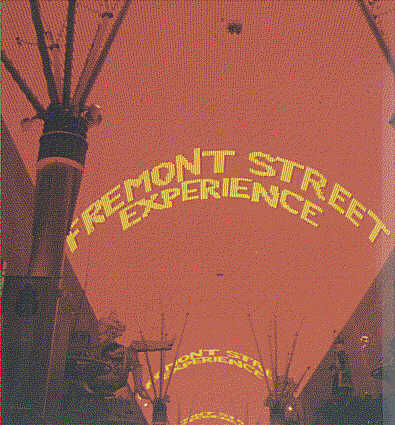 For a few weeks before the grand opening scheduled for December 13, 1995 the lights and sound system were extensively tested and fine tuned. This gave our staff quite a few chances to collect pictures of their favorite animations.
Each of the hourly shows are different. There were three basic shows that we caught, two of which we have captured here in some detail. One of them was a special presentation in honor of the National Finals Rodeo which was in town for the week of December 4. It featured a western theme and favorite country music tunes. The second was a Christmas season spectacular accompanied by popular Christmas carols which had everyone humming and singing along. Being immersed in the whole experience seems to have that effect on many people. By the way, the words are often displayed with a bouncing ball to help the musically impaired.
We have displayed many of the pictures below at various angles to make the most favorable appearance. Keep in mind that the entire display surface has a domed shape, encompasses a four lane street in width and a full four city blocks in length! In most of the following pictures all you are able to see is about a block of that with the rest being, for the most part, a repeat of the same scene. Pictures and video movies therefore are all taken in the aerial show position with head back and arms aching for the 5-10 minute duration. Enjoy! Now if I could just get this crick out of my neck...
We'd like to thank the Fremont Street Experience group for giving LVLG express permission to share the following copyrighted works of art with our readers.
---
Nation Finals Rodeo Show
Christmas Show
---
National Finals Rodeo Show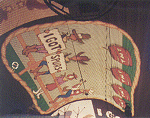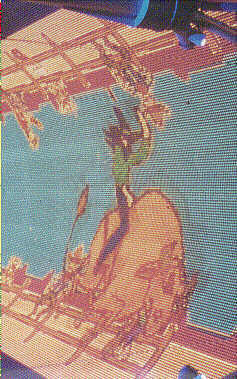 (50K JPG)
The sound system belts out "I got spurs, that jingle, jangle, jingle..." as TNT casks with lit fuses bounce about in rhythm.

Fast action bronco busting Fremont Street style.-->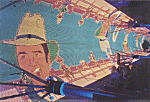 (48K JPG) Famous County/Western singers are also portrayed as their songs live on.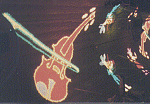 (55K JPG) A large fiddle plays for an animated square-dance.
---
Christmas Show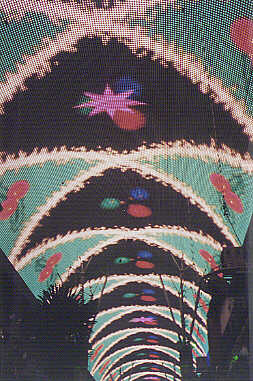 "Deck the streets with boughs of holly, Fa-la-la-la-la, la-la-la-la..."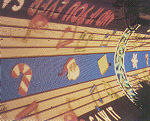 (45K JPG) Visions of candy canes, presents and Santa float by as Gene Autry sings the ever popular "Rudolph the red nose reindeer...". Animated notes and lyrics with bouncing ball, help out those who may have forgotten the words... "and if you ever saw it, you would even say it glowed..."
(48K JPG) Toy soldiers march to a Christmas tune and then fall down like dominos.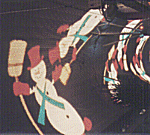 (55K JPG) Frosty the Snowman dances and twirls with clones of himself as Burl Ives does his rendition of the popular Christmas song.
---
Technical Notes: For those of you interested in this sort of thing... If you're planning to visit the Fremont St. Experience and take your own photos take note. All Fremont Street Experience light show photos on this page were taken with a generic model *Nikon 35 mm camera with 35-50 mm lens and a Canon AE-1 with std 35 mm lens. Since light intensity was highly variable we set in autoexposure mode when possible. We consider the *Kodak Royal Gold ISO 1000 T-Grain Emulsion type film that we used in this case to be absolutely essential in our opinion to capture the lower light intensities along with the high speed of the animated motion and still be of suitable grain quality to scan (if you find this type difficult to obtain, or should run out, there is a souvenir shop right in the Fremont Street Experience which carries it for a slight premium. If you'd like to contribute digitized shots of your own, we'll give you credit. The moire patterns seen in some of the online pictures were NOT in the photos and resulted strictly from the scanning process. Scanning was done from a 4 x 6 print at 100 dpi with a 600dpi *Info *Image Reader color scanner. Subsequent digital processing was done using *Photo Shop Pro 3.11, *Micrografx *Picture Publisher, *Photoworks, *Corel *PhotoPaint and other software under *Windows 3.11 on a 486DX66 PC. In the process we also discovered that most modern cam-corders we tested and witnessed others using were quite capable of capturing the whole performance with quite nice results.
*All trademarks mentioned are the property of their respective owners.

---
If your Las Vegas hotel, casino, restaurant or establishment has new major construction, public activities (sorry, slot tournaments and bingo night don't count) or other interesting tidbits to offer, send them to us on company letterhead and if we think LVLG readers will be amazed, astounded, or even slightly interested we'll publish it. Make sure to send LOTS of pictures and written permission to publish them! We love pictures!
Return to Fremont Street Experience feature main page

---
Created by PCAP; © Copyright 1995
Last Updated: November 17, 1995