The Galleria at Sunset Mall - Henderson, NV
The Galleria at Sunset is the newest mall in Nevada and the first enclosed mall for the recently named fastest growing city in the U.S. Just 9 miles southeast of Downtown Las Vegas on I-515 (route 95), it is located at the corner of Sunset and Stephanie roads, (take route 95 to the Sunset exit).
(23k jpg)The 1 million square foot mall was conceived with a spacious southwest theme in mind.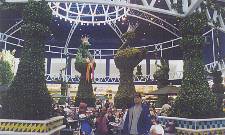 (33k jpg)Amenities include a 600 seat food court sporting well trimmed, whimsical, shrub formations (are they live or are they polyethylene?) and including a special children's seating section.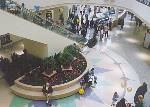 (13k jpg)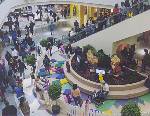 (23k jpg)
Plenty of relaxtion area to rest your feet between stores is available, including one designed especially for parents with children in mind. At left, miniature cacti are arranged in brilliant horticultural designs, while at right Grumpy stands watch to make sure everyone is having a good time.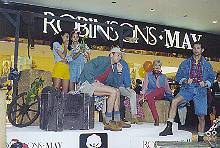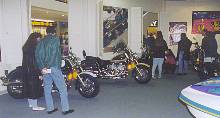 The mall encompasses 110 retail specialty shops on two floors and four department store anchors: Dillard's, JC Penny, Mervyn's California & Robinsons - May (whose freeze-action living mannequins are shown above. Specialty stores include The Disney Store, Eddie Bauer, The Gap, Radio Shack, Hot Topics, two camera stores, 8 jewelry stores, about a dozen shoe stores and even a gaming arcade for the kids. There's even a store you can walk right into and buy a motorcycle or water ski! (above right).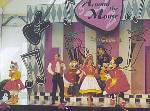 (20k jpg)The Disney theme surrounding the grand opening will continue through March 3 with entertainment including shows like that at left.
Other up-coming special events scheduled include:

March 22: an Easter Chocolate extravaganza featuring a six-foot Chocolate Easter Bunny (we'll try to let you know if it was solid or hollow...), a five-foot, chick-filled (the chocolate type), Easter Egg and a totally chocolate Easter Bunny house with a chocolate, vegetable garden. All sponsored by our famous, local Ethel M Chocolates company. Godiva lovers eat your heart out.
May 15-Labor Day: "Scenes of the Dinosaurs" - featuring 15 life-sized, computer-controlled dinosaurs. We have confirmed they are NOT made of chocolate but rather some space-aged, patented skin material and will emit what scientists believe to be authentic (who's to argue?), as they reportedly "walk, fight, feed underwater, hatch (hmm, no wonder the dinosaurs died out, I think they skipped a step there) and raise offspring". Not a show to be missed, fer sure!
For more information about this exciting new shopping destination, you can contact the mall at (702) 434-0202, 1300 W. Sunset road, Suite 1400, Henderson, NV 89014
---
If your Las Vegas hotel, casino, restaurant or establishment has new major construction, public activities (sorry, slot tournaments and bingo night don't count) or other interesting tidbits to offer, send them to us on company letterhead and if we think LVLG readers will be amazed, astounded, or even slightly interested we'll publish it. Make sure to send LOTS of pictures! We love pictures!

---
Created by PCAP; © Copyright 1996
Last Updated: February 28, 1996