Caesars Magical Empire
Soft-Opening Review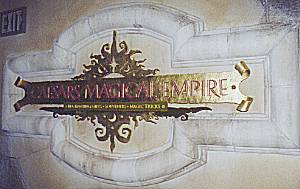 At long last, a few lucky Las Vegas tourism industry colleagues and Caesar's Palace employees were finally invited to take a gander at the long awaited spectacle known as Caesars' Palace's Magical Empire. And that is what a couple members of the Las Vegas Leisure Guide staff did one evening last week.
We kept an open mind since we were well aware that the place is not officially open to the public yet, but is being operated as training for the many sorcerers, sorcerer's assistants and other staff. The official opening is now June 18, 1996 with a VIP grand opening June 26.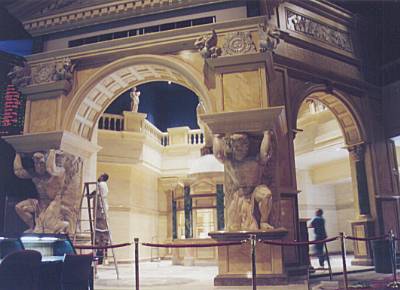 The first impression upon approaching the entrance is one of efficiency! The entrance is a room that holds a limited number of guests, and takes some time to get through. The tickets are sold for a specific time prior to the dining time, allowing ample time to move everyone through efficiently with a minimal wait, unlike many attractions which keep you waiting, and waiting, and...
Supreme effort is made to group you with your friends, and as long as there are less than 24 of you you're in good shape. Any more than that and you won't all fit in the same private dining room. Everything is scheduled to run like a well greased chariot race.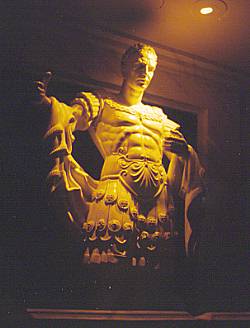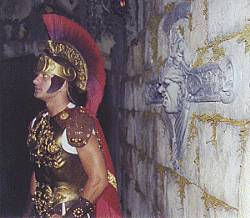 Your adventure starts in a dimly lit room where Caesar himself greets you with a riddle which you must solve before you can enter the subterranean depths to continue on your journey. Once you pass the first challenge (we didn't see anyone not pass) you then move on to the next challenge: following the designedly, slightly hapless guard to your dining chamber through the dark winding corridors.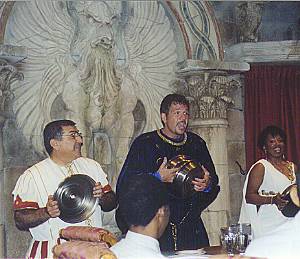 After being marched real orderly like, into the dining chamber (don't worry where you end up sitting, there are no "poor" seats in the house) you meet your Sorcerer Host (Octavius) and his or her two amiable assistants (Minimus and Maximus) who will give you their undivided attention for the duration of your visit. For the normal fare you have a choice of veal, chicken, vegetarian, fish and an apparently unlimited supply of "Nectar of the Gods" (white house wine or iced tea).
(At right Octavius, Maximus and Minimus perform a song and dance routine while delivering meals using serving equipment as props).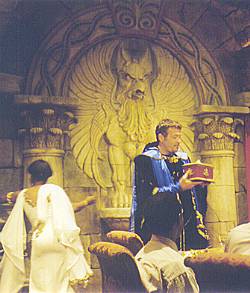 Like any gourmet meal, the portions are not enormous (we have been informed that as of Sept. 1996, the portions now seem to be more substantial than when this article was originally written), but the entertainment and mystery of it all certainly are! From taking your order, to delivering your dessert (which incidently is the same scrumptious chocolate, flour-less cake, or strawberry tart, no matter what sealed envelope is picked) magic and mystery abound. If anyone figures out how they manage to divine who ordered what without ever looking at the choice cards, let us know.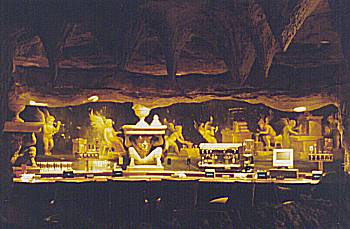 After dinner you're free to roam the dark, buried chambers of the Empire, including the Grotto Bar at right with a magical player piano (whose favorite tune is "New York, New York"). Fortunately you're given a rather helpful souvenir map... If you can figure out which way is north underground! (Hint: you're starting from the bottom right). From the dizzying Forbidden Crypt to the Spirit Bar and the magic shows, there is plenty to keep any magic fan busy for hours. There are impromptu magic shows by wandering magicians as well as two sit-down theatres with periodic shows. Foreboding creatures and ghostly spirits haunt every corner from the floor to the stone rafters. Also be sure to stroll out onto the rope bridge opposite the Spirit Bar to get the best look at the amazing bottomless crevice!
One note, if you need to go to the restrooms, be sure to study up on your ancient Roman languages, or at least remember that "uomini" means men and "donne" stands for women, otherwise you may need to put on your bifocals to carefully study the tiny, intricately engraved, anatomically correct, his and her statues at the doors. And while you're in there, be sure to take a good look in the mirror.
The centerpiece of the "Sanctum Secorum" is an illuminari show with dancing flames, free flying doves and a 20 ft corkscrew flame reminiscent of the movie "Backdraft" meets the movie "Twister". The show seems to be narrated by the same voice that narrates the animated statues in the Forum Shops next door.
Of course the only way out is through the snazzy (and contrastingly, brightly lit) gift shop where you can pick up that final souvenir of your visit. Many will come for the elegant dining, others for the magic and mystery, but whatever you get out of your evening of mystery, don't forget:
"What you believe is real, is real".
---
If your Las Vegas hotel, casino, restaurant or establishment has new major construction, public activities (sorry, slot tournaments and bingo night don't count) or other interesting tidbits to offer, send them to us on company letterhead and if we think LVLG readers will be amazed, astounded, or even slightly interested we'll publish it. Make sure to send LOTS of pictures with written permission to publish them! We love pictures!


---
Created by PCAP; © Copyright 1996
Last Updated: June 14, 1996