Miss Universe Pageant Comes to Las Vegas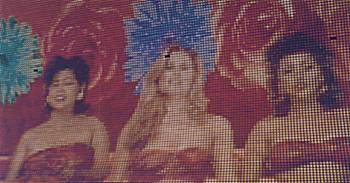 Sure, one thinks of Vegas and automatically the mind drifts to casinos, bright lights and, of course, showgirls! But lately the town has been seeing more than it's fair share of fair beauties, and we're not just talking the kind up in lights like these ones on the newest Fremont Street Experience light show which will be part of the beginning of the upcoming aired television spectacle.
May 3, 1996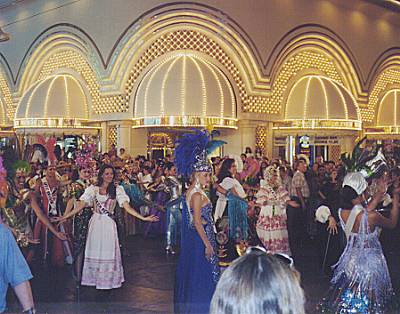 Visiting the city over the next couple weeks are over a hundred of what nearly every country in the world has decided are it's most ravishing misses, as the Miss Universe Pageant comes to Las Vegas. The climax of the more than three weeks of onsite preparation, taping and judging will take place May 17, 1996 as the awards are made and one of these ladies becomes Miss Universe 1996. (Right, ready to rehearse, candidates line up in front of the Golden Nugget)

(Below Miss Bahamas practices a new dance step with Miss Greece.)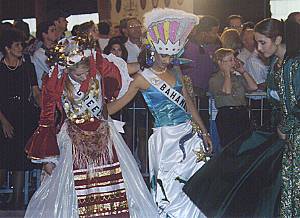 The night we took these pictures (May 3, 1996) at the Fremont Street Experience the ladies were rehearsing and taping the first part of the television show which is to be coordinated with the overhead lights. Only select media and special VIPs were invited, so the local papers and television media were conspicuously absent, but LVLG was onsite with the countless Miss Universe candidates snapping away (pictures that is). The general public was later invited to join in with the cheering and applause during the actual taping.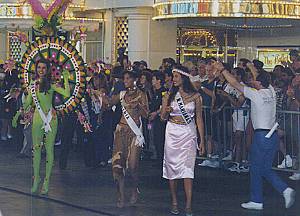 The regimen appeared tedious and tiring as they taped and retaped the 30 second segment of dancing in costume. But from the evidence here it appears that the participants all had a good time overall getting to know each other and showing off their native costumes. (Right, a few participants "do their own thing" as TV crew tries to get everyone on cue.)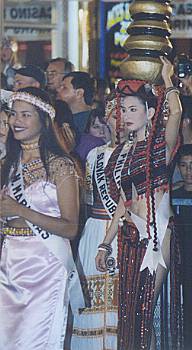 Other show taping dates are set for various locations around town. Check the "Heard Around Town" Las Vegas News Column for up to date info as we get it. The final awards ceremony is scheduled for Friday May 17, 1996 at the Aladdin Hotel.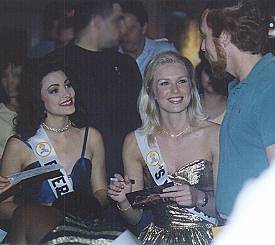 Here Miss Puerto Rico and Miss Sweeden take time out to sign autographs. (Incidently Miss Sweeden's family reads the Las Vegas Leisure Guide and even made reservations through one of our advertisers (USA Direct) to be with their daughter in Las Vegas)
May 9, 1996 - Planet Hollywood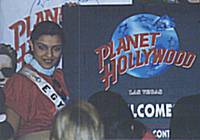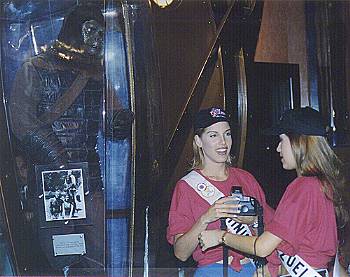 The candidates were officially welcomed to Nevada by Governor Miller on May 9, 1996. The media was initially invited, but then as pageant security gorillas took over control once again, this time from Planet Hollywood, most of the media was kicked out. We think it is only fair to say Planet Hollywood Officials were as surprised at the conduct as everyone else. Before we were so rudely shoved off, we managed to get in a couple of shots. (Right: Beauty Meets the Beast at Planet Hollywood)
May 10, 1996 - King 8 Hotel - Carnival Night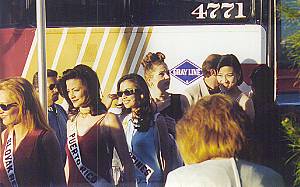 The Carnival Night event at the King 8 Hotel on Tropicana Blvd. was another pageant event closed to the general public. The candidates arrived just about 6:45pm. They were delivered to the party, after a day of touring the city and surrounding landmarks, via three Gray Line buses and jumped right into the casual, festive mood. Gray Line Las Vegas Sightseeing Tours was the official transportation source for the pageant candidates' entire stay.
They enjoyed making new friends,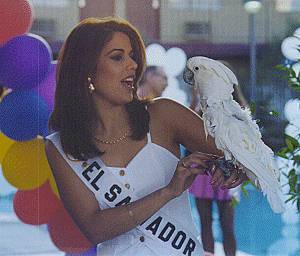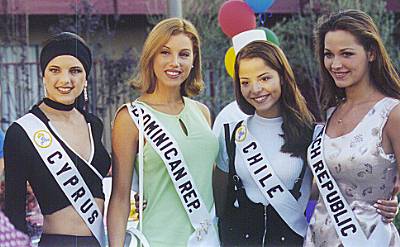 posing with new acquaintances,
clowning around,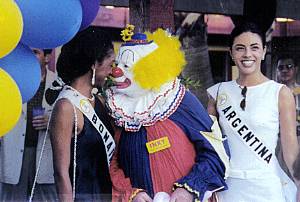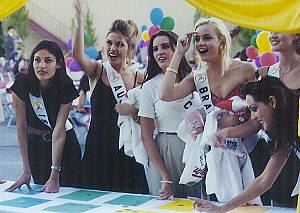 trying their luck at the Wheel O' Fortune,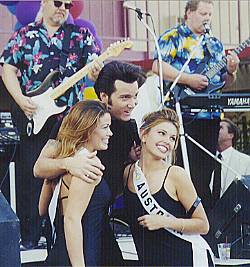 and even witnessed an elusive Elvis sighting with Legends in Concert performer Trent Carlini. (translation: "Oh mom, isn't he sooo cute? Can't I take him home with me after the pageant?")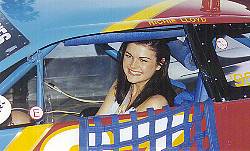 Miss Ireland, Joanne Black, indulges her greed for speed in Richie Lloyds MSRA championship race car. Last rumored seen cruising down Las Vegas Blvd, we're not sure if he'll ever get to drive that car again...
---
If your Las Vegas hotel, casino, restaurant or establishment has new major construction, public activities (sorry, slot tournaments and bingo night don't count) or other interesting tidbits to offer, send them to us on company letterhead and if we think LVLG readers will be amazed, astounded, or even slightly interested we'll publish it. Make sure to send LOTS of pictures and written permission to publish them! We love pictures!

---
Created by PCAP; © Copyright 1996